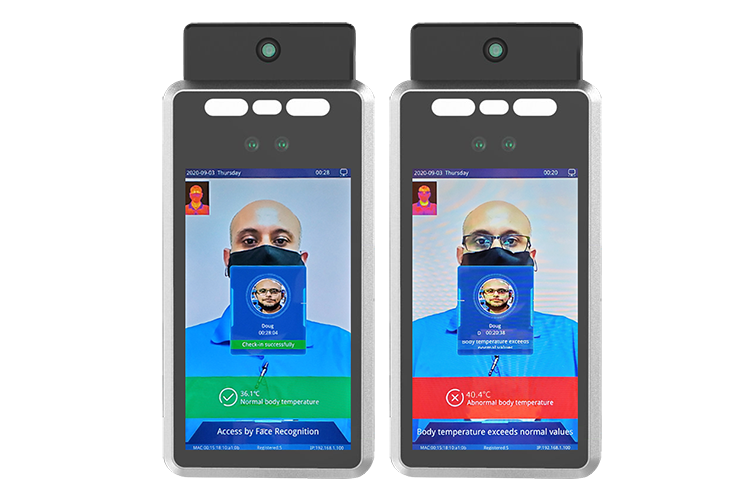 Face Recognition Thermal Scanner
The RevTouch Face Recognition Thermal Scanner safely screens employees and visitors for high temperature as they walk into a building. Simple to Use. Accurate. Contactless.
•  ± 0.5 °F / 0.3 °C temperature accuracy
• 0.5 – 1.2 meters long-distance temperature screening
• Built-in facial recognition
• Integration with access control systems
• Device terminal supports both online and offline modes
• Equipped with a powerful network background management system
• Support multiple peripheral expansion
Product Features
The RevTouch face recognition thermal scanner uses high-quality infrared modules to detect temperature from a person's face with an accuracy of 0.5 degree fahrenheit (0.3 degrees celsius). If the temperature is over a predetermined threshold, an audio alarm is triggered.
Additionally, the unit uses face recognition algorithms to analyze the face and see if the person is known to the kiosk, such as a company employee, allowing the expansion of various peripheral devices such as card readers, gate heads, and door magnets. The facial recognition technology even works if the person is wearing a mask, and can be configured to sound an alert if a mask is absent.

+/- 0.5 °F | 0.3 °C
Temperature Accuracy

Less than 300ms
Recognition Speed

0.5 – 1.2 meters
Detection Distance

99.99%
Face Recognition Accuracy